St. William Catholic Church is a testament to the commitment of its founders and the continuing commitment of parishioners.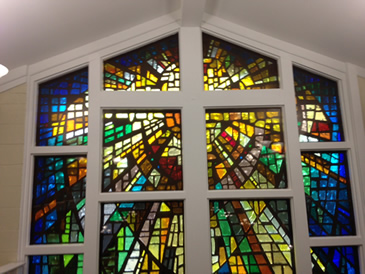 The parish originated as a mission of Our Lady of Sorrows in Frayser to meet the needs of Navy and Marine personnel living off base and for Millington residents. In the Fall of 1949, Mass was celebrated in Millington in the Strand Theatre for about 35 people. The following year land was purchased and in 1951 a wood frame church was completed behind the site of the present church.
Parishioners contributed to fundraising for the building of the church, sometimes going door to door and having bake sales. Money was granted by the Catholic Extension Society in Chicago and loans were given by the Bishop of Nashville.
Parishioners also did most of the construction of the church and school building. Parishioners poured the foundation, finished the inside and made the doors, shelves, and desks. Parishioner Andy Bocklage, a cabinet maker, built the pews, the lector stand, the chapel altar and the Eucharistic symbol which is on the wall in the Narthex.
St. William opened a school in 1953 with three grades and an enrollment of 160. By August 19, 1954 - the day that St. William became a parish - the convent, cafeteria and the present church, as well as an addition to the school building, were completed. The first Mass in the present church was on Thanksgiving Day, 1954.
In 1969, the Bishop transferred the pastoral care of St. William Church to the Missionary Congregation of the Oblates of Mary Immaculate. Sadly in 1970, personal and financial difficulties forced the closing of the young parish school. The return of the diocesan priest as parish pastor came in 1989.
The church offices experienced a fire on November 28, 2012 that destroyed the offices. A firewall protected the sanctuary from the fire, although there was smoke and water damage. Masses were held in the Family Life Center and the Church office was there as well. The restoration of the sanctuary was completed November 1, 2013, and the offices were completed May 15, 2014.
The parish continues to serve a population that has a high percentage of military - retired or active duty - which adds to the wonderful diversity of the parish. Navy personnel have become more permanent members of the Millington community since the U.S. Navy Bureau of Personnel established a headquarters in Millington in 1998. While time and circumstances have changed in many, many ways, the Church of St. William continues to grow and serve both the military and civilian communities of greater Millington and southern Tipton County in the spirit of the original faith that took root here in 1949.