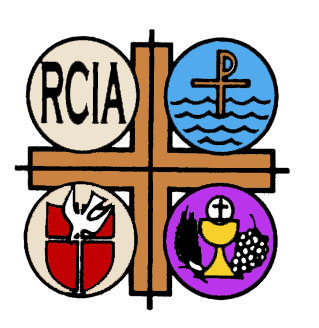 Rite of Christian Initiation of Adults (RCIA)
The Rite of Christian Initiation of Adults is the formation process for adults seeking to become Catholic. The formation process includes catechesis, prayer and faith-sharing. There are Rites celebrated throughout different stages of this formation process, which are celebrated with the parish and diocesan communities. The celebration and reception of the Sacraments of Initiation - Baptism, Confirmation and Eucharist - are the culmination of the process but is yet only the beginning of their journey as a Catholic Christian.
Here at St. William, the R.C.I.A. formal sessions run from mid-August until the week after Easter. This, however, does not mean that those who have questions cannot meet with someone from the team at other times of the year.
The R.C.I.A. process is divided into stages: Inquiry; Catechumenate; Purification and Enlighment; Celebration of the Sacraments of Initiation; and Mystagogy.
Those in the R.C.I.A. process who have been previously baptized, but have not been catechised, are known as Candidates. Those who have not been baptized are known as Catechumens.
Members of the parish may be called upon to be a sponsor or a godparent for someone coming into the faith. The role of the sponsor is to be there for the candidate/catechumen on their journey in faith and aid them in their spiritual growth and understanding of the Church. The sponsor also stands with the candidate/catechumen at the Rites celebrated within the parish and the diocese.
To enroll in the RCIA program, click here to download the RCIA Enrollment form. Fill the form out and return it to the Parish Office.
For more information or if you are interested in being a team facilitator or sponsor, please contact the Parish Office at 872-4099.